"Discover The One 'Secret' Tweak
I Made To My Website That


Instantly

Increased Sales by 19.4%!"
...and it will take you just 8 minutes to do the same!
Andrew Lock - Marketing Specialist
Hello, my name is Andrew Lock.
For the last 12 years I've been helping entrepreneurs to make more sales on their websites. I've inadvertently become one of the world's leading experts in unconventional online marketing methods.  My friends even call me the "Yoda of Marketing" not because I'm green with short pointy ears but because of the scope of my marketing knowledge 😉
What I'm about to share with you is so simple it's almost laughable, yet fewer than 3% of website owners have discovered this secret...
Here's what led to the exciting breakthrough...
I was reading an article in Entrepreneur magazine that mentioned a recent study from Nielson group.  It showed that on average, Internet users make their judgement about a website within 8 seconds!
I was shocked!
I did more research and discovered the problem is actually even worse!
For example, another recent consumer survey found that 82% of online shoppers won't shop on a website they don't trust!
This is the fundamental reason why so many websites fail to generate sales...their websites simply aren't trusted!
Yes, most Internet users are skeptical and concerned about who to give their credit card information to.
The bottom line is this: you may be offering a great product or service, but if your website visitors don't trust you, your sales will be very limited.
Finally! The Secret to Getting
Website Visitors to Trust You!
When it comes to making your website profitable...
...you need to give your visitors what they want:
3rd Party Approval That You Are a Legitimate Business.
It's as simple as that.  That's all they're looking for.
But HOW do you get 3rd party approval for your website?
Unfortunately, there are numerous barriers in the way:
You're a small business without the backing of a large well-known company
You haven't built up social authority online
You're trying to get established on a limited budget
You don't have many testimonials for your products yet
Fortunately, there is an answer.
You can plug yourself into a proven system that gives you and your websites instant credibility and trust.
It's called Safe Site Seals and it works like magic!
In a nutshell, by pasting a simple line of code into your website, you'll get 3 x Safe Site Seals just like these:
They look simple, yet they're incredibly powerful.
More than 40 hours of detailed research went into designing a style, format, colors and language that are proven to reinforce TRUST.
The result is a proven system that will work for you just as it does for everyone who uses these seals.
They're MUCH More Than Graphics...
The power of these seals lies in the fact that there's an intelligent "engine" behind them.
You see, when your visitor clicks on one of them, a new window opens up from the third-party SafeSiteSeals.com website.  It displays a custom page (with information that YOU approve) that gives your visitor instant confidence as they see the following verification: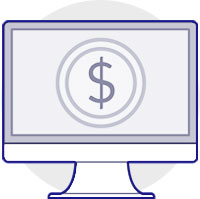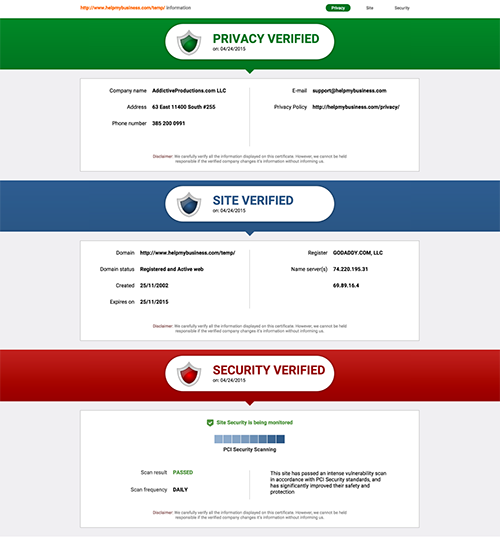 * Your company name and mailing address
* Your support email address
* Date your site was created
* Your IP address and name server
* Your privacy policy link
* Domain registrar
* Confirmation your website has been verified.
Instant trust is gained.
Why is this so powerful?
It's simple psychology.  In the eyes of your visitor, what others say about your website is FAR more persuasive and credible than anything you could say, that's the bottom line.  So having these Safe Site Seals displayed along with the dedicated web page confirmation, speaks volumes to your visitor, and gains their trust instantly.
But don't take my word for it!
Look at this article from Forbes, that gives statistics from multiple research companies about how Trust Seals are proven to work:
You're probably wondering how this works, right?
It's very easy.  There are 3 simple steps:
1) After you click the order button below and make the purchase, you'll be sent an email to register the details of your website.
2) Within 24 hours we'll create your seals and send you some custom HTML code.
3) Ask your web manager to paste the seals into all pages of your website.
That's it!
Fast to implement! It takes most people less than 8 minutes from start to finish
Easy to setup. In 3 simple steps you'll be ready!
Boosts conversions on landing pages
Trust and authority are instantly generated
Make more sales!
Our very first test was on a site that sells health products directly to consumers, and the results were staggering - we got extremely excited!  Take a look at the before and after below...
"Conversion" means the percentage of visitors who accepted the offer to either join the mailing list or buy a product.  As soon as we implemented Safe Site Seals, the conversion percentage jumped to 19.37% and has stayed around that mark ever since!  That represents a massive increase in profits!
Every business owner needs to understand and implement Andrew's techniques - they'll see their business explode with profits as a result.

Travis Tollestrupp
I appreciate how you've spared me much time, energy, and effort.

Kevin Utt
Adding trust seals to verify a website is not an original idea, even though I didn't realize that at the time I did the tests.  The concept has been tested and proven across industries as diverse as fishing to real-estate, and from balloon-making to zoology.  It works on all of them!
One of the leading providers of trust seals charges their customers a MONTHLY minimum fee of $57.00, rising to over $100.00 a month! 
Note that there are plenty of customers who happily pay $57 or more a month because they're seeing the positive results, but of course you and I both know that the cost adds up, and in just 3 years this service will cost them AT LEAST $2052.00!
Safe Site Seals saves you LOTS of money!
I want website owners to get the same benefit as the other "pricey" services without the sky-high monthly costs.  So I created an automated system to cut-down on our fulfillment costs and I'm passing the savings directly on to you 😉
Imagine going to a pizza store and seeing 2 identical pizzas on the counter, except one is 10 times the price!  Which one would you pick?!   I'm offering you a similar scenario: identical benefits for a fraction of the price.
As a result, you can benefit from Safe Site Seals on your website today, for a one-time investment of just $97.
If you can see this message it means we're doing a marketing test for a limited time, offering SafeSiteSeals at the lowest ever price of $47.  This is a temporary test and will NOT be repeated! The price will be reset again soon.
So it's just $97  $47 and there's nothing more to pay...ever!
For less than the cost of  ONE month with our leading competitor, you get the instant benefits of being viewed as trustworthy - you'll make more sales, guaranteed!

30 Day Unconditional Money Back Guarantee
Order Safe Site Seals right now and if you're not completely thrilled with the increase in conversions you get on your website, just send me your request within 30 days of your purchase, and I will refund you in full, no questions asked.  I am confident that you'll be delighted!
"Yes! I Want Instant Credibility and Trust
For My Website AND Make More Sales!"
Price:
$97.00
Today Only

$47
Join hundreds of other website owners who rely on SafeSiteSeals to instantly gain the trust of their visitors.
Just $47 gets you instant access so you can improve conversions and make more sales.
Just click the orange "Add to Cart" button below…
Questions?
Email us at support@helpmybusiness.com
or
Call 385 200 0991 (M-F 9am to 5pm Mountain time)